Looking for online salvage auction software? Here's how we can help
We can supply experience and know-how for your upcoming online salvage auction as a well-known provider of online auction software. We are frequently referred to as the independent auctioneer's partner of choice because of our extensive industry knowledge—more than fifteen years—and software solution that is intended to increase online sales.

Our user-friendly online auction programme was created using the most recent cloud-based web technology.
This means that our software easily and smoothly manages auctions on mobile devices, laptops, tablets, and computers without the hassle of downloading apps.
Smart, robust salvage online auctions

Mobile-friendly, app-free bidding
Auctions run straight from your website on any modern computer or mobile device, no apps needed.

Detailed lot information
Add detailed product information with as many pictures, videos and supporting PDF documents as you'd like.

Real-time updates
Your bidders can keep track of all bids in real-time without continuously refreshing the bidding page.

Bid extension
Allow bidding to continue for an extended period of time to maximise bidding activity.

Lot staggering
Close your lots off in sequential batches to maximise bidding activity on larger auctions.

Webcast pre-bidding
Allow time-poor bidders to place their bids before and during your live webcast auction instead.

Real-time audio and video
Stream your live webcast auction events in real-time.

Multi-currency and language translation
Reach your desired target markets with options for multi-currency and language translation.

Social sharing options
Share auctions or individual lots to Facebook, Twitter, LinkedIn, Whatsapp, Weibo & more!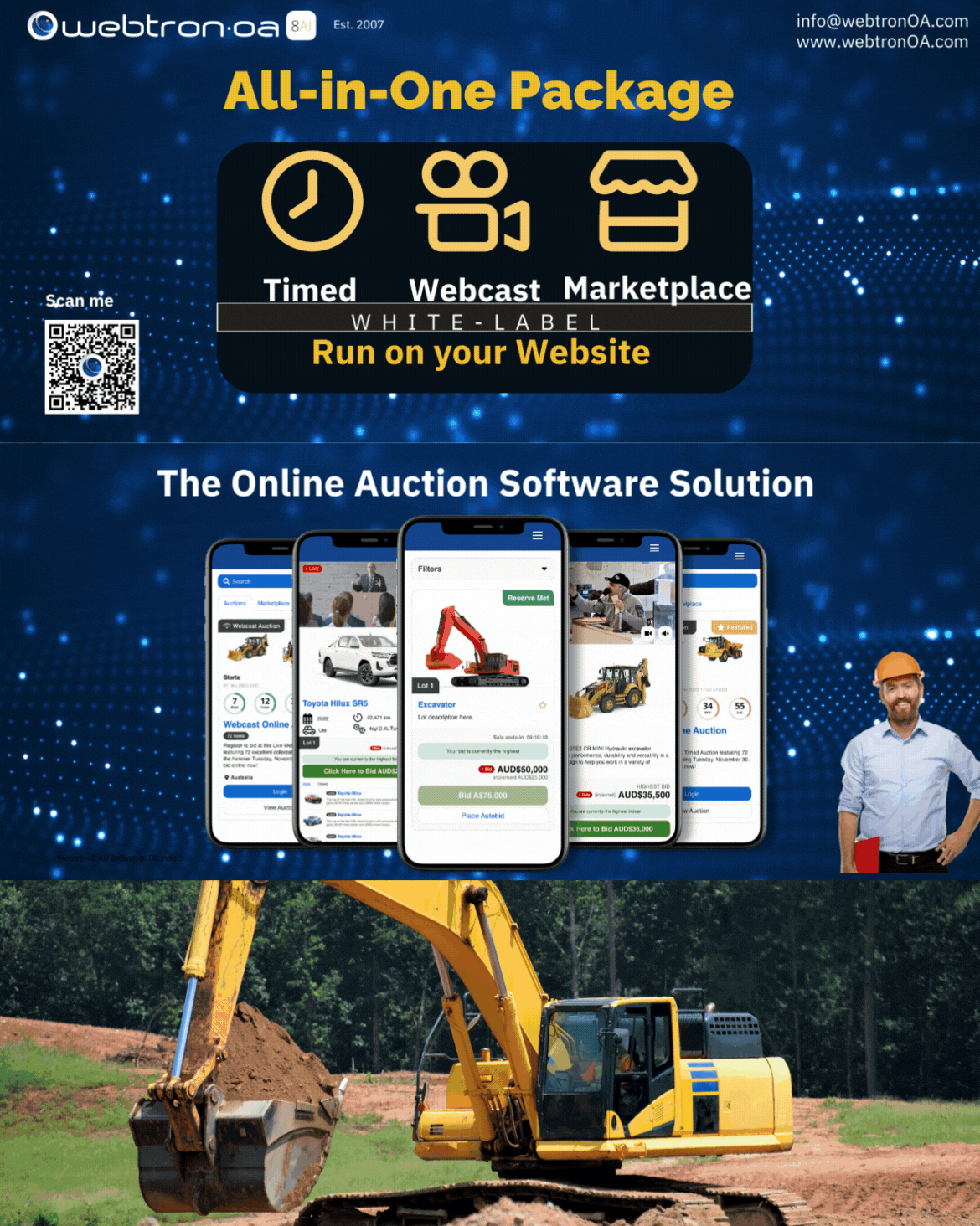 Dozens of features to create an immersive and engaging online auction environment for your bidders
Our online auction software has been specifically designed to cater to the needs of real estate auctioneers and their bidders. We offer smart, well-thought-out features that make the auction process a seamless and efficient experience for everyone involved.
Our timed auction solution is equipped with smart features such as bid extension, lot staggering, maximum bids, and email auto-outbid notifications. This ensures a fair and competitive bidding process. Additionally, our webcast auctions allow bidders to place pre-bids before and during the sale and enable you to stream high-quality audio and video to a wider online audience.
Our smart filtering system helps bidders find what they are looking for by searching through categorized lots. It also integrates with an email marketing platform to send targeted e-alerts to registered bidders whenever an item of interest is added to the system. Related items are shown to bidders to simplify browsing through items.
Our software offers easy access to sales, user, and invoicing management systems for your administrative team. Getting paid is simplified with our in-built payment gateway. You can add unlimited lots and photos, along with PDF and video content, to the system for a more engaging experience for bidders.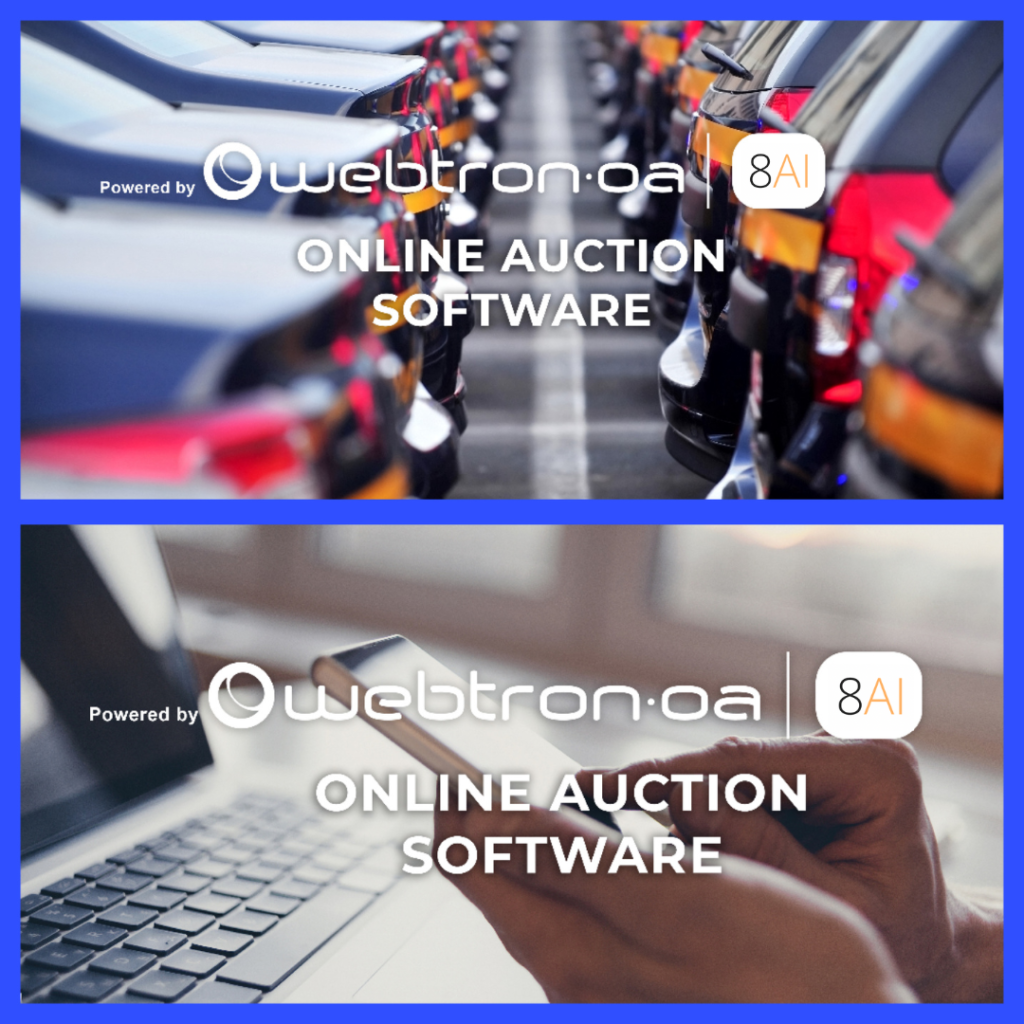 Online auction solutions for your business
🎥 Live Webcast Auctions
⏳ Timed Online Auctions
📈 Marketplace
👩‍💻 Remote Clerking option
✅ Everything you need & will run from your own website
🏷 White Label Auction Software – 'value protect your bidders & IP' ( Not a group site
)
So modern works on all devices without frustrating bidders to download apps
🧑‍💻 Includes Setup, Training & Local Ongoing Support
🧾 Auction invoicing & reporting
🖥 Websites & marketing
😊 Simple for bidders and powerful for auctioneers
So ready to get started?
New Webtron 8AI Auction Software has Arrived!
Webtron 8AI has been designed for Salvage auctioneers like you to take your online auction business to another level with artificial intelligence software.
Take advantage of a white-label auction solution that runs from your own website.

There has never been a better time to upgrade your online auction software to Webtron's 8 newest auction software version release.
It's 'Simple for bidders and powerful for auctioneers'.
Please get in touch and arrange a demo for your business.
Learn more by filling out the contact form below